UK Overnight Distribution
Circle Express provides a national service for Overnight Distribution covering the whole of the UK mainland based on Next Day, AM delivery, PM delivery and Timed services.
Whether it is a pallet to Perth, boxes to Birmingham or a birthday card to Cornwall, Circle Express has the Overnight Distribution service to match. All supported by the very latest technology providing the ability to obtain a quote, book a collection, live track the consignment and have automated POD's sent direct to your inbox!
Our Overnight Distribution service is also used by the biggest names in the freight forwarding World as Circle Express are a CAA Regulated Agent with ETSF facilities at Heathrow Airport. Each of our sites are covered by our AEO Status and comply to ISO 9001. We are the quality operator of choice for Overnight Distribution in the UK.
Circle Express. The All Round Logistics Provider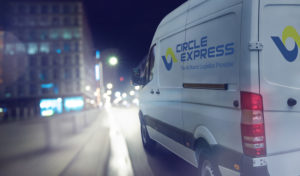 To learn more about our UK Overnight Distribution services, please select one of the options below.