Next Day Deliveries
All of the Circle Express depots connect through our trunking network overnight to ensure we fulfil our promise of a fully managed next day delivery service to all of our customers.
The Next Day Delivery Service comes with options for enhanced and premium services. Timed morning or afternoon delivery and also our 2 hour window delivery option. All consignments are monitored by the Circle Express Customer Liaison Team at your local depot and with our technology solutions, live tracking is available with updates and delivery confirmations (POD's) sent to you electronically.
Please ask about our late drop off service. Ideal if you need to drop off your consignment late and still require next a day delivery service!
Circle Express: The All Round Logistics Provider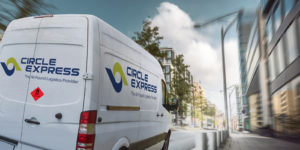 To learn more about our UK Overnight Distribution services, please select one of the options below.