Same Day Vehicles
Circle Express provide a comprehensive same day delivery service and our extensive fleet is built around the requirements of our customers and the goods we carry. We know that if you decide to arrange a Same Day Delivery then this must be urgent. All our Same Day Delivery consignments are monitored which ensures we stay one step ahead for you.
We operate all sizes and specialist vehicles including:
Arctic's , 18t , 7.5t , Luton , LWB , SWB , Small Vans
Tailifts – Trailers , 18t , 7.5t & Luton
All vehicles sizes in both box and curtain side vehicles
Roller Bed , Q6 & Q7
Air Ride
Trailers – Flat Bed , Sliding Roof , Custainside , Box , Step Frame , Low Loader
Our Same Day Delivery Service can be quoted for and booked online via our website. In addition, our fast and effective online system provides live and real time tracking of the consignment with delivery confirmation (POD) sent to you automatically via email. Each of the seven Circle Express depots have a range of vehicles and options to support your specific Same Day Delivery Service requests.
Circle Express: The All Round Logistics Provider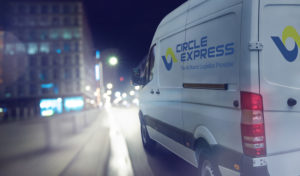 To learn more about our Same Day Vehicles services, please select one of the options below.