Explosives Transportation
Circle Express are authorised to carry "in-scope" explosives and therefore the transportation of explosives is handled by our EX II vehicles. With over 30 years of experience in transporting explosives, Circle Express is the most recognised name in the hazardous materials carriage business.
If you need to arrange the transportation of explosives (including fireworks and pyrotechnics), Circle Express have the knowledge, experience and resources to be your organisation's ultimate transport solution.
Circle Express. The All Round Logistics Provider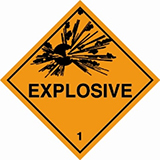 To learn more about our Hazardous Goods Transport services, please select one of the options below.